Industrial construction refers to the development, renovation, or ground-up construction of buildings meant for manufacturing goods. These buildings can include factories, power plants, distribution centers, warehouses, and other specialized facilities. Besides, the design, installation, or maintenance of mechanical and structural components in a building is also part of an industrial construction project.
Characteristics of Industrial Buildings
Usually have open floor plans, high ceilings, and natural light.
Functionality is prioritized over aesthetics. Structures are built to support heavy equipment.
Compliance with strict guidelines and legal regulations.
Fulfillment of permitting and occupancy requirements to comply with standards from local, state, and federal agencies.
Mostly located on the outskirts of a city or town.
Consist of special conveyance that allows 24/7 shipping and receiving air or railroad transportation, or access to highways.
Industrial Building Types Explained
Industrial buildings are mainly divided into three main categories – manufacturing, storage & distribution, and flexible space. Each of these industrial building types has individual characteristics and serves different purposes, depending on its space and available resources. Let's examine these three building categories and their subcategories one by one:
A. Manufacturing Buildings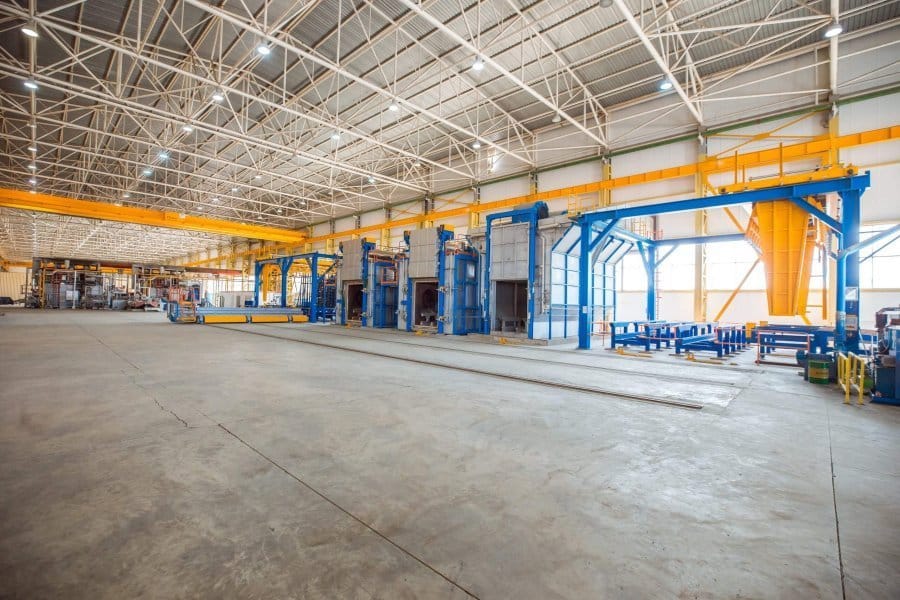 One of the most common types of industrial facilities is a manufacturing building. Manufacturing buildings are designed to house equipment used to produce goods or materials. For example, oil, mining, and shipbuilding businesses. Manufacturing buildings range from small single-story warehouses to large multi-story factories.
Characteristics of Manufacturing Buildings:
Enormous space for production equipment
Typically less than 20% of office space
Clear heights of at least 10 feet and high ceilings to accommodate overhead cranes and other machinery
Heavy-duty floors to support heavy equipment
Multiple loading docks for trucks to receive raw materials and ship finished products
1. Heavy Manufacturing Buildings
Production of heavy-duty goods like automobiles, steel, cement, or outdoor equipment takes place in a heavy manufacturing building. Thousands of square feet of space are available for storing raw materials and finished products in these facilities.
Generally, they contain heavy-duty equipment, three-phase electricity, and ample loading dock space. Depending on a company's needs they may also have customized drainage, pressurized air, and water lines, cranes and storage tanks, ductwork, ventilation systems, chemical lines, etc. Heavy manufacturing buildings are built to suit, which means a steel manufacturing building cannot be used to make cement. In case the structure needs to be changed, the entire building will be renovated because of the permanent fixtures needed to produce specialized products.
2. Light Manufacturing Buildings
Light manufacturing buildings, unlike heavy manufacturing buildings, are used by businesses that assemble small goods and materials. For example, electronics manufacturers, toy companies, textile production, and furniture companies.
Characteristically, light manufacturing buildings have modern storage space and a spacious office area for administrative functions. They require fewer materials, space, and power to operate. Products are stored and shipped using lighter, portable equipment that can be easily reconfigured for new tenants.
B. Storage and Distribution Buildings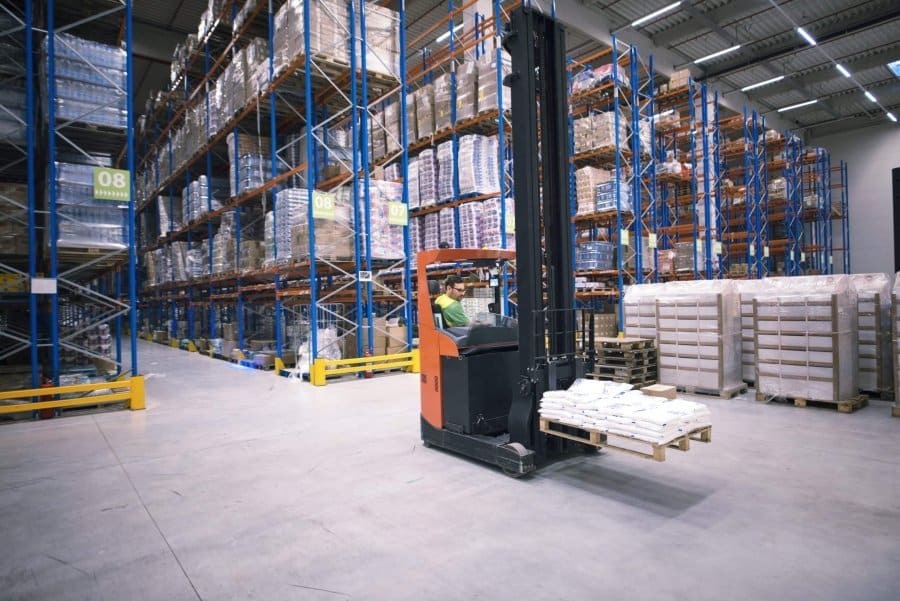 As the name suggests, storage/warehouse and distribution buildings serve the purpose of storage and transportation of goods from a centralized location to end consumers. These goods can be raw and packaged materials across sectors such as agriculture, manufacturing, healthcare, food and beverages, etc. These industrial building types benefit manufacturers, exporters, importers, people involved in wholesale business and transport, etc.
Warehouse properties are classified into six categories – general warehouse, cold storage, hazardous material warehouse, specialized warehouse, distribution warehouse, and trick terminals.
Characteristics of Storage and Distribution Buildings:
Single-story structure that is 50,000 to hundreds of thousands of square feet large with high ceilings, multiple loading docks, large parking lots, and concrete truck courts.
About 80% of the square feet space is assigned to storage space and 20% of the square feet space is dedicated to offices.
Up to 60-foot high ceilings to accommodate huge racking and storage systems.
Some warehouses are climate-controlled to shield sensitive materials from temperature extremes.
Located near city center and airports for quick product deliveries.
1. General Warehouse Buildings
General warehouses are primarily for storing a variety of goods and materials and not for distribution. Here, the goods are kept for longer periods of time, hence, neither building's location is an important factor, nor its door-to-square footage ratio, since products aren't frequently moved in and out. The design of general warehouse buildings depends on the goods they store, and the prices of these goods also vary by storage facility. For instance, cold storage is equipped with freezers that are entirely sealed and insulated to maintain a low temperature.
2. Refrigeration/Cold Storage Buildings
Cold storage buildings are single-user industrial properties equipped to hold large-capacity coolers and freezers. They are specially built for large-scale national food distribution and manufacturing companies.
Cold storages require seals on their docks and insulated overhead doors to keep products cold. A specialized foundation is laid because the freezing, often sub-zero, temperatures in the coolers can cause slabs to crack. Cold storage properties are located mostly near state and national highways and in places with a sufficient supply of electricity.
3. Hazardous Material Warehouse Buildings
Hazardous materials (HAZMAT) warehouses are used to store biological, chemical, radiological, and/or physical hazardous materials. These materials can be flammable, corrosive, or dangerous to living beings and the environment. Highly specialized facilities like these need to follow safety protocols set by various regulatory bodies.
A warehouse operated by a third-party logistics provider (3PL) must be certified to handle hazardous materials. As per OSHA, not more than 60 gallons of Class 1 (explosives) or Class 2 (hazardous gases) material and not more than 120 gallons of Class 3 material (flammable liquids) should be kept in a single storage cabinet. HAZMAT buildings include special features to protect workers and the surrounding community from these hazards.
4. Specialized Warehouse Buildings
Warehouses dedicated to storing specific types of materials that require special attention are called specialized warehouse buildings. Among them are art storage warehouses, oil, and chemical warehouses, automobile storage warehouses, whiskey wine storage warehouses, etc. To protect items from any damage or spoilage, industrial construction companies have to install highly developed facilities in such warehouses. In fact, storage of explosives like fuel is governed by strict regulations. Because of the distinctive nature of individual businesses, these specialized warehouses are custom-built.
5. Distribution Warehouse Buildings
Bulk distribution warehouses are buildings to store large quantities of a single product. They are often outfitted with conveyor belts, packing and shipping machines, and robotic arms. As the name implies, distribution warehouses are fundamentally used for shipping goods, so their location is crucial. Ideally, a distribution warehouse should be located near the middle of the country, equidistant to its buyers, or close to transportation hubs like airports, ports, and railroads.
6. Truck Terminals
A truck terminal or cross-dock facility is used to store and service trucks, facilitating the movement of goods along the supply chain. It acts as an intermediate loading and unloading station for transferring goods from one truck to another. Truck terminals have the least amount of storage space of these industrial building types. More emphasis is put on features such as large parking spaces for trucks, service bays for maintenance and repairs, and fueling stations. Usually, truck terminals are located near highways or other significant transportation routes.
C. Flex Space Buildings
Flex space buildings are by design 'flexible' which are used for multiple purposes and can be easily refurbished to meet a business's needs. It is an industrial building type that encompasses office space, production space, and storage space all in one location. Flex spaces are the most suitable choice for startups because their rates are lower than traditional office space and they can facilitate more parking space than bulk warehouse buildings.
There are three types of flex spaces – research and development (R&D), data centers, and showrooms.
Characteristics of Flex Space Buildings:
Over 30% of the space is reserved for office use and there is ample parking.
Usually have a slightly-lower ceiling clear height (14 – 24 feet).
Features office space, conference rooms, production areas, storage areas, and shipping and receiving docks.
Loading areas can be dock high or ground-level, and older buildings may even have semi-docks (2 ft) to accommodate smaller box trucks and vans.
Larger parking space and better landscaping than other industrial properties.
1. Research and Development (R&D) Buildings
Flex buildings are much preferred in high-technology industries such as computers, electronics, and biotechnology because of their hybrid nature. Hi-tech industrial companies build research and development centers to create, test and improve new and existing products.
Unlike the typical bare flex spaces, R&D centers have a campus finished with eye-pleasing architecture and landscaping, shared workspaces, and plenty of open space. Advanced spaces like these require more power than other buildings to test equipment and feature fire suppression systems, and high-security systems.
2. Data Center Buildings
Data centers are dedicated facilities that keep the internet running and make cloud storage accessible for large companies. On average, they are about 100,000 square feet spacious housing an extensive number of computer servers and telecom switching equipment.
To protect equipment from damage or overheating, effective cooling systems, HVAC, and security systems are in place. Additionally, there are redundant power supplies (one or two units) to ensure smooth technology running during any power outage. Data centers are designed with reinforced floor slabs to withstand heavy loads from network equipment.
3. Showroom Buildings
A showroom building is a perfect example of a flex building that combines a retail display area, storage space, and office space. As a general rule, more than 50% of the building area is used for displaying and selling products.
The most common examples of showroom buildings are car dealerships, furniture companies, automobile showrooms, and electronics stores. Showrooms are located in bustling areas such as shopping malls, industrial parks, and business parks.
To Conclude
Every company, be it a factory, manufacturing firm, logistics business, or retail business, looks forward to growing. Finding the right one that fits your business needs is paramount to your success. While most industrial building types, from manufacturing, distribution to flex, have their similarities, it's wise to note their differences to pick the best space for you. Whatever option you choose, evaluate the company's needs, assess growth plans, estimate the budget, and envision your future growth.
Constructive Solutions, Inc. has worked in the industrial construction industry for several years and prides itself on its competent team of professionals. We build all types of industrial buildings right from the ground up and renovate existing ones to maximize space and functionality.
If you are planning to construct new industrial real estate, contact us today.
Relevant Resources:
Constructive Solutions, Inc. is a full-service commercial construction company serving San Francisco and Bay Area.
Whatever your vision, we have the resources, experience, and insight to make your concept a reality, and a space where your business can flourish.