Updated On 02 June 2022.
"Always plan ahead. It wasn't raining when Noah built the arc." – Richard Cushing
Taking up a commercial construction project can be challenging for anyone, from business owners seeking expansion to startup entrepreneurs looking for a physical location to launch their company. It starts with the proper planning, whether for a hotel, hospital, mall or any other business, by hiring the right people.
Regardless of the scale and nature of each commercial construction project, the multitude of concerns, challenges and surprises you will encounter are often mind-boggling and costly. Therefore, you should prepare yourself as much as possible before starting a new commercial construction project.
Index
Firstly, let us understand ground-up commercial construction and everything one should consider before the commercial construction project begins.
What is Ground Up Commercial Construction?
Ground-up commercial construction builds a structure from the ground up on an empty lot. In simpler words, you are starting from scratch! You have to lay new walls, form new foundations, and construct new footings. An important advantage of ground-up commercial construction is that it allows for more flexibility. Building from the ground up can be built in phases as your company grows.
In most cases, ground-up commercial construction gives you nearly limitless design options. The site is essentially a blank canvas that you can customize the way you want. However, these benefits come at a price, as ground-up projects are generally more expensive.
You'd have to agree that all those breathtaking commercial construction projects didn't emerge overnight. Instead, they were the result of meticulous planning and execution. These commercial construction projects are a work of art created by professionals with different skill sets. Nevertheless, you should have knowledge of some the common steps involved the process of commercial construction and to make it easy, we have listed them below for you.
The 13 most important things you should know before starting a ground-up commercial construction process
Location:

There's more to it than you think. There are many more factors to consider when choosing a location for a commercial building than with any other commercial construction project. First, it is crucial to building in an area where there is already a market and high demand.

The process of strategic planning also includes preparing for possible weather delays. Considering the season and weather of the location of the building is equally essential as it will affect the commercial construction project. You must consider the commercial building's location from your business, your employee's standpoint, and its proximity to other facilities. It is important to ensure that the nearby infrastructure will support the future business.

Zoning: 

Certain cities have strict zoning requirements that determine what commercial construction is allowed. For example, there may be restrictions on height, floors, color, etc. It is essential to start this process as early as possible before a commercial construction project begins. Therefore, it is critical to determine the types of buildings permitted in the area before purchasing the site and creating your commercial construction project.

The Site Visit: 

Before breaking ground, your builder should always inspect your property. The builder should be familiar with the lay of the land not just through the survey maps supplied during the design process but also from their observations. Organize a site visit so that you can walk the site together. This helps address any concerns you have about the land, and your building contractor can make sure your commercial construction project will be feasible at your chosen location.

Setting A Realistic Budget:

When it comes to building commercial construction projects, things rarely go exactly to plan. By including an error margin that can cover unforeseen expenses in your budget, you can avoid delays in your commercial construction project if problems arise. Based on factors such as the size, complexity of the build, and the state of the economy, the margin will be more significant or more minor. For instance, the cost of non-residential construction increased by 5% in 2018 and 2019.

Besides the commercial construction costs, there will be costs for permits from the government, insulation for the correct HCAC (heating, ventilation, and air-conditioning) system, and labor costs. Therefore, while you should consider the cheapest way to build a commercial building, do not compromise on the quality of any essentials that may affect building a commercial property and then the property itself over time.

Setting up this budget avoids delays in your project by having a safety net built-in from the beginning. Budgeting is about balancing your wants with a realistic assessment of how much you can afford. This is a time-consuming and complex process that is best to begin many months before your commercial construction project.

Project Timeline:

Ensure that you understand how the commercial construction project will proceed and when will you complete the building project. You will need a timeline from the general contractors (GCs) you hire to conduct the construction assembly. Many factors can impede work, including a delay in shipments of materials, paint drying, weather, etc.

By informing the project manager about your desired start and end dates, they will better understand the commercial construction project. In addition, they will provide you with realistic dates for the project based on their processes. The timeline will also keep your commercial construction project on track.

Get Your Insurance Sorted Out

It is essential to have your commercial insurer ready before construction begins. Get commercial construction insurance out of the way before you even start a commercial construction project to avoid later issues. They'll likely need square footage, the expected completion date, and inspect the finished project.

Hiring A Commercial General Contractor:

Commercial construction projects don't have to be stressful for you, and you don't have to do everything yourself. The best way to ensure the commercial construction project's success is to hire a commercial construction company/general contractor with integrity and experience.

Many building owners are looking to maximize profits by lowering their offers. Yet often, the opposite occurs — substandard quality, constant delays, and disorganization can make the process unbearable. Take the time to do your research and find a contractor you can trust. Getting a guide during the commercial construction project is essential because the process can be tiresome.

Getting To Know The Team:

Make sure you are familiar with the Architects, Designers, and Project Managers assigned to your project. These people will be working with you for several months or even years. Therefore, communicating effectively with them will lead to the successful completion of the project. Furthermore, you should make sure that you thoroughly outline your needs in terms of your budget, timeline, and building requirements.

The Pre-Design Phase:

During this phase, you define the project's intentions or goals, and the total commercial construction project cost is determined to a reasonable level of accuracy. At this point, the owner should introduce the architect and general contractor – or, better yet, opt for a design-build delivery approach that streamlines the process. In addition, this phase determines whether the commercial construction project can include the client's desired amenities.

In addition, it is crucial to consider factors such as utility connections, site accessibility, and building orientation that will affect compatibility with amenities. Finally, creating contract documents is necessary for establishing the timeline for commercial construction projects and setting the cost per construction phase.

The Design Phase:

Now it's time that you must ensure the building's structural integrity and code compliance through detailed drawings and schematics of the commercial construction design phase. First, a mechanical engineer verifies the plans for internal structures like plumbing and HVAC within a building. On the other hand, structure engineers validate the drafts for structural soundness. Meanwhile, electrical engineers plan the electrical supply throughout the building. And civil engineers design the infrastructure connections and parking areas.

The Pre-Construction Phase:

Building a commercial building involves a significant amount of paperwork during the pre-construction phase. You will need to get the necessary permits and insurance for the people on site in this phase. This step also involves taking bids from vendors to ensure that the procurement phase meets budgetary expectations. Finally, you will need to set up a team to handle the commercial construction project's site visits.

Line Up The Necessary Equipment For The Project:

Before beginning any new commercial construction project, it is essential to figure out what equipment you need. Considering that this will be one of your high costs, it is crucial to determine where you can acquire each of these items and for how long. It's equally important that you hire your equipment from a reliable vendor.

Budget management depends heavily on the procurement stage. In most cases, the general contractor handles the procurement stage. However, a commercial construction management team ensures that the general contractor communicates appropriately with everyone involved in the process.

Site Preparation:
Site preparation is the first step in turning the plot of land into a working commercial construction site for the next few weeks. Initial commercial construction plans include establishing guidelines such as how workers access the site, storing the materials and equipment, working days and hours, and maintaining quality.
Another preparation step that directly impacts a building's structure is laying out the utilities and preparing connections for water, waste, and electricity. After thoroughly checking these components, the commercial construction project should begin.
So, you know what you need to plan before your commercial construction project, but it is equally important to know what not to do. The construction industry is more susceptible to errors because of the intricate details. Even a tiny issue can quickly spiral into chaos. Let's examine some of these mistakes you should avoid.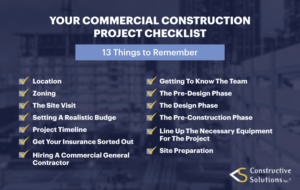 Common Commercial Construction Mistakes You Should Avoid
Going with the first estimate – If you stick with the first estimate, you might let some details slip. Still, when the un-estimated commercial construction costs appear in the middle of a project, you will encounter problems and delays.
Poor communication – Miscommunications between project stakeholders are significant reasons for commercial construction project delays and conflicts within the team.
Ignoring safety measures – Accidents never seem to happen at the right time, but the more prepared a commercial general contractor and crew are, the greater the chance of preventing accidents.
Lack of monitoring – We need systems for proper equipment handling, continuous training, and monitoring to ensure we don't overlook anything on-site. Failure to address these issues can lead to unexpected commercial construction costs.
Not reading before signing – It is common for commercial general contractors to sign documents without reading them, since they spend a lot of time dealing with different aspects. It happens all the time, but it can create problems at times.
Using outdated processes – Outdated information, software, applications, and cloud services can cripple a general contractor. In contrast, not upgrading manual processes can have even more detrimental outcomes than outdated software.
Unorganized ordering process – While material ordering may not sound challenging, it can take months if the process is disorganized, thus leading to a waste of time and resources of your commercial construction project.
Not planning for contingencies – There are many situations when commercial construction problems catch us off-guard. There will always be risks in the commercial construction process, and it is wiser to plan for them instead of being caught unexpectedly.
Rushing the pre-construction phase – Although it seems like pre-construction is a waste of time, skipping this phase could cause the commercial construction project to fail.
Every commercial construction project is unique, and each has its own set of possible errors. Even though some construction mistakes are beyond our control, being more informed will increase your chances of avoiding them.
You are all set to hit the ground and begin with the actual commercial construction process. You may feel that these steps are very time-consuming, and no doubt they are, but it is worth it. It's a fact that the more time and effort you spend on the planning and pre-construction phase of the project, the less time it takes in the actual construction and post-construction stage.
Conclusion
The construction project of a commercial property is a significant investment with huge potential. However, you should realize that such a project will require patience, resources, and time. Understanding the work processes, planning them, and getting the details right is key to making it work.
Several unforeseeable events can delay your project and add to your financial burden. It is precisely at this point that your planning steps in to minimize or eliminate the impact of such unforeseen events and keep your commercial construction project on schedule.
Involving a reputable company at the onset of a commercial construction project is another key to success.
We at Constructive Solutions, help our clients with the entire project cycle and provide assistance from the beginning of a project until its completion and even beyond. You can checkout our services here.
Constructive Solutions, Inc. is a full-service commercial construction company serving San Francisco and Bay Area.
Whatever your vision, we have the resources, experience, and insight to make your concept a reality, and a space where your business can flourish.