An industrial contractor is a company that manages, supervises, and handles the design, construction, installation, maintenance, repair, renovation, relocation, repurposing, and demolition of industrial buildings such as warehouses, factories, power plants, and other highly specialized facilities.
Typical responsibilities include assessing potential building sites, obtaining the necessary licenses and permits, coordinating with subcontractors, and maintaining the project budget. From aerospace and automobiles to steel and food manufacturing, these industrial construction companies offer services throughout a wide range of sectors for many large-scale projects.
A United States market research report by IBIS World shows that the market size of the Industrial Building Construction industry in 2023 is $25.4bn. The National Industrial Building Construction industry is heavily concentrated in California, Florida, and Ohio. California has in total 366 businesses operating in industrial contracting services with a market size of $3.3 billion.
When choosing your industrial general contractor, ask about their self-perform capabilities and experience. Many industrial contractors outsource certain areas of the construction process while some perform critical construction activities with in-house expertise. In this blog, you will discover the fundamental industrial construction services to expect from companies.
1. Heavy Rigging Services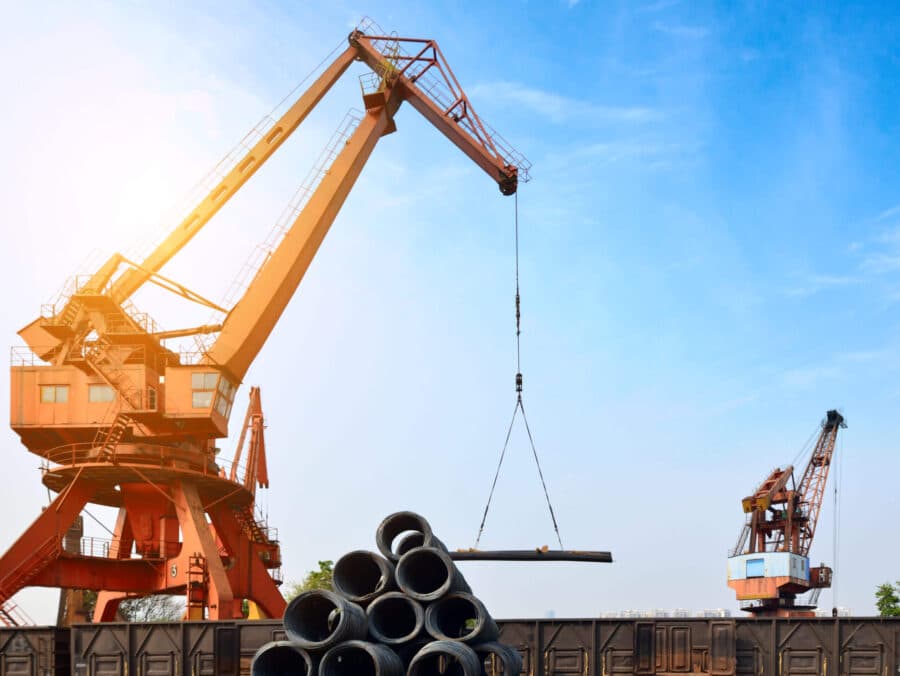 Also known as material handling, heavy rigging services entail moving, hauling, leveling, installation, and alignment of heavy equipment. If any part of the equipment is to be dismantled and/or removed, your industrial construction contractor will develop the most economical and safest plan to meet your machinery transportation needs. They specialize in moving and installing heavy equipment and machinery like CNC machines, boilers, transformers, generators, and assembly lines using advanced rigging techniques.
Companies might also have alliances with crane service providers for the purpose of specialized heavy rigging projects. They can facilitate single or multiple cranes lifting up to 15-400 or more tons to their clients. For safe industrial transportation, they keep heavy-duty trucks, trailers, and flatbeds at their disposal.
OSHA recognizes 'struck-by-an-object' accidents as one of the four leading causes of construction fatalities and approximately 75% of struck-by fatalities involve heavy equipment such as trucks or cranes. Hence, make sure your construction team's personnel are adequately trained and qualified. Besides, qualified riggers are an OSHA and ASME/ANSI requirement in case the project team is using a mobile crane with over 2,000 lbs capacity.
2. Process Piping Services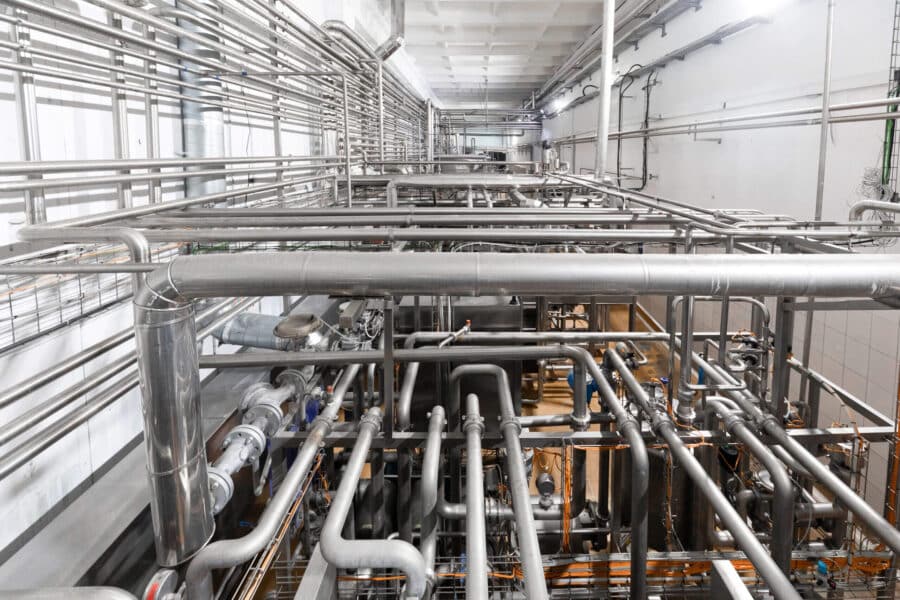 This is one of the critical industrial construction services. Process piping in industrial facilities like chemical processing facilities, pharmaceutical plants, and breweries serves to transport liquids and gases from one location to another. The piping systems and valves that sometimes carry hazardous matter must comply with OSHA regulations. Hence, industrial contractors need an understanding of mechanical and system functions.
For instance, if a manufacturing facility transports hot liquids, the process piping systems must be composed of heat-resistant material. Industrial process piping services can be:
Pipe routing design and implementation
Pipe material selection
Manual and control valve selection
Piping and instrumentation diagram (P&ID) development and implementation
Pipe installation
Pipe design support and installation
Pipe testing
Pipe welding and assembly
Pipe painting and labeling
Pipe insulation and heat tracing
3. Office Construction/ Renovation Services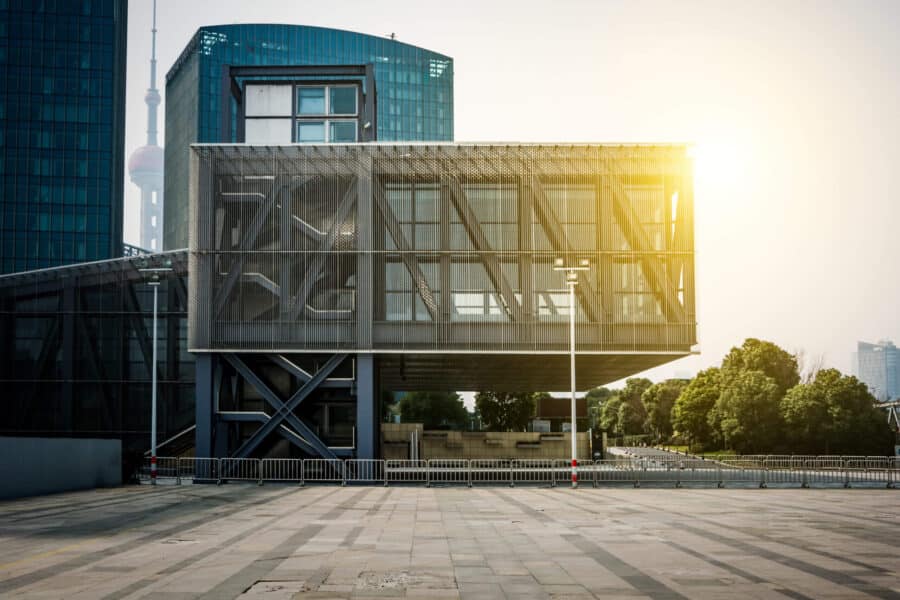 Although industrial contractors are typically equipped to handle large-scale construction projects, office building and renovation services often fall under their expertise. They can provide a single point of contact for comprehensive project solutions and help create a functional, safe, and attractive office space that meets clients' needs.
Industrial construction services may encompass constructing metal buildings or offering a steel frame foundation and concrete block construction. Developers can provide customizable features to these structures such as blast-resistant capabilities and specialized mechanical and electrical services for control centers, industrial laboratories, and offices.
For example, the office space of an automotive manufacturer was built with concrete masonry and steel framing. It was designed to maximize natural light with tall storefront windows and glass in perimeter office walls. The lab and equipment parts inventory areas had controlled environments with electro-static dissipative flooring and cleanable vinyl acoustic ceiling tiles. According to the client's unique requirements, office spaces are constructed and can be renovated.
In addition, the American Disabilities Act directs that all industrial facilities, with exceptions, must have ADA-compliant restrooms. Needless to say, industrial general contractors will also offer restroom renovation services that focus on upgrading older and non-compliant bathrooms up to code and enhancing the aesthetics.
4. Concrete Foundation and Slab Services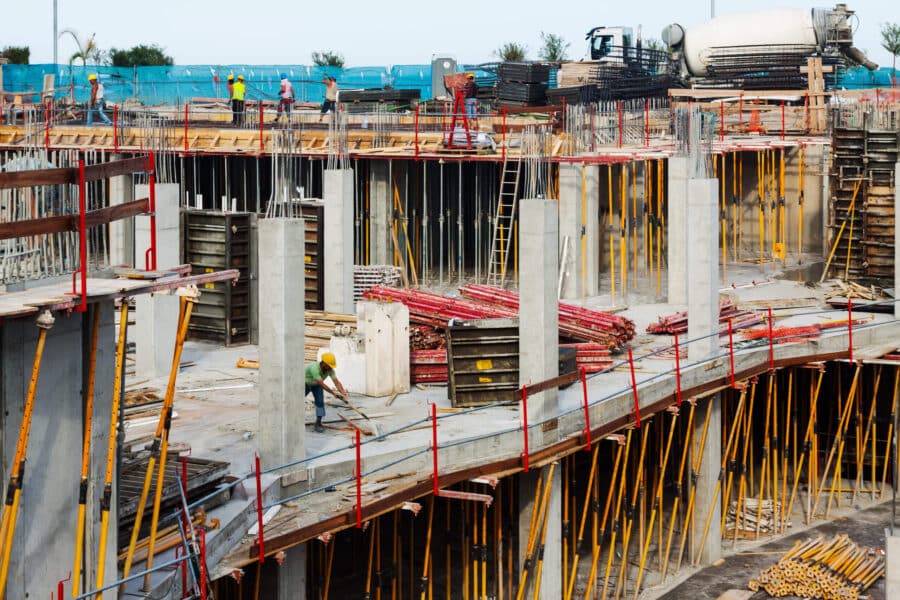 The quality of industrial construction services is largely determined by the strength of the building's foundation. Companies provide a range of foundation and slab services for new constructions and existing building modifications. For example, structural design and calculation, equipment foundation, containment walls, structural foundation, elevated slabs, as well as task-specific finishes such as complex forming and safe removal of forming.
The basic industrial concrete services you should expect are:
Conducting soil tests by a local Geotechnical Engineer to assess its load-bearing capacity and compaction levels.
Site preparation and surveys
Engineering, constructing and delivering structural rebar cages on-or off-site
Experience in forming and pouring concrete foundations over 10 feet deep
Pile installation
Expertise in pouring shallow and deep foundations
Concrete slab repair and restoration (stabilizing the slab, filling joints, and polishing)
Utilizing their knowledge and technical expertise, industrial contractors build durable concrete foundations tailored to the specific site and application. This results in a long-lasting and highly reinforced concrete structure that can support equipment. Some firms even provide foundation repair and maintenance services using the least-intrusive processes.
5. Structural Steel Fabrication and Installation Services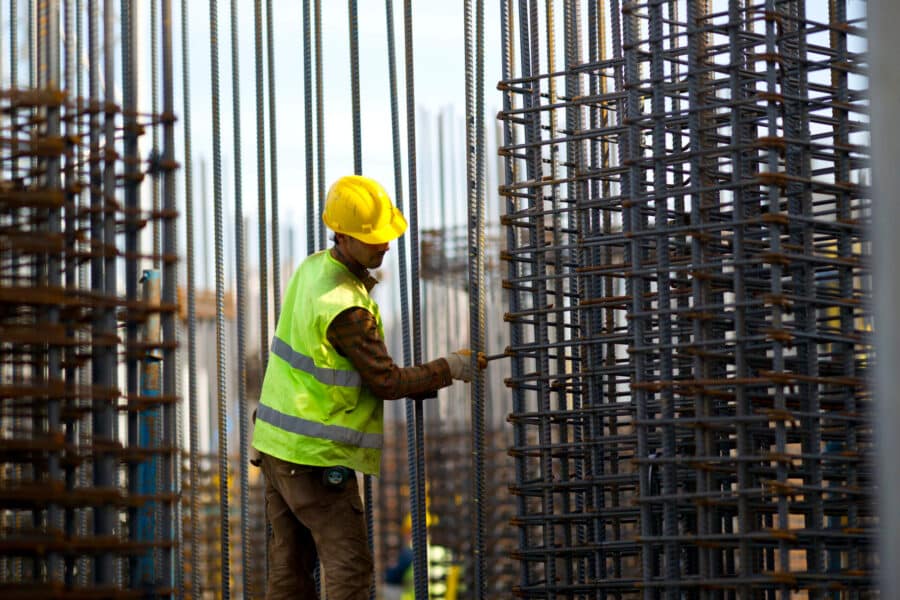 Structural steel is used in the construction of various building components of industrial facilities. Generally, they include catwalks, handrails, machine guarding, pipe bridges, permanent and portable platforms, tank anchoring, support systems, foundation embedments, and others.
Industrial construction companies design and engineer structural steel components following project requirements. They utilize the latest engineering software for structural steel analysis, connection design, shop drawings preparation, and state-of-the-art Computer Numerical Coded (CNC) equipment for fabrication.
The process of fabrication involves cutting, shaping, and welding steel pieces into specified dimensions. Finally, they paint or give hot dip galvanizing finishes on steel for long-lasting corrosion protection. Once the fabricated components are transported safely to the construction site, skilled workers connect them with bolts and welts and ensure they are properly erected and aligned.
6. Material Handling Services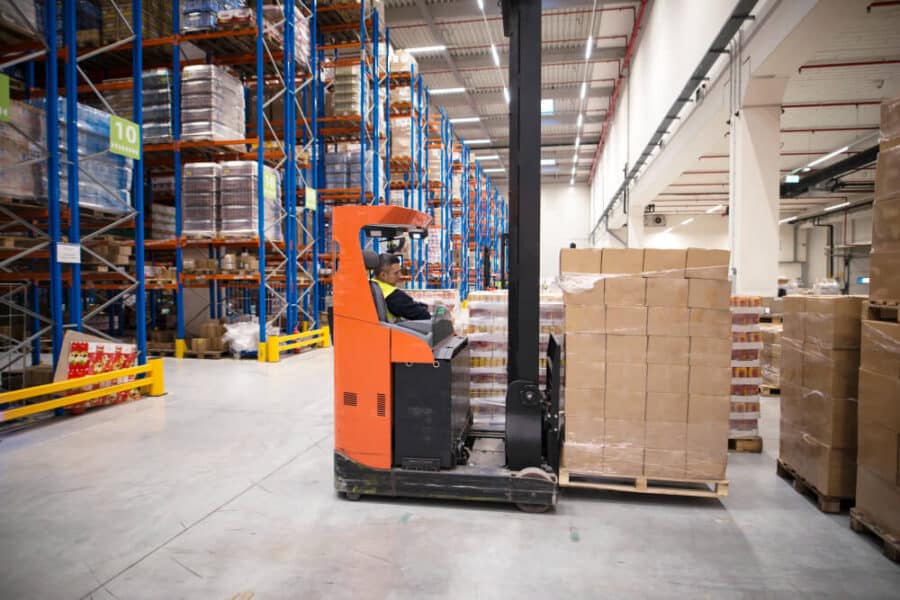 Industrial construction services include employing various processes and equipment to transport, store, and handle materials within a facility. They use forklifts, cranes, pallet jacks, hoists, conveyors, lift tables, and automated guided vehicles (AGVs) to move materials from place to place. Clients can even receive custom material handling solutions, for example, custom conveyors, voice-controlled picking assistance, or in-motion scanning for weight and dimensions.
Along with this, warehouse storage facilities are provided by companies. This is for storing raw, work-in-progress, and finished products safely in storage systems such as pallet racks, mezzanines, and shelving systems. Some industrial construction companies may have advanced warehouse control software integrated into their management systems that result in real-time monitoring.
7. Mechanical Equipment Services
Correct selection and installation are critical to ensuring mechanical equipment functions as intended. Whether you need assistance with new or existing equipment, industrial contractors will ensure mechanical equipment is properly and safely installed. Some contractors may offer custom manufacturing services to create specialized mechanical equipment or components to meet unique project requirements.
They can perform maintenance and repairs, equipment upgrades and retrofits, as well as removal of equipment that is no longer in use. Industrial contractors can fabricate and install various mechanical equipment like conveyor belt systems, heat exchangers, pumping and control systems, stainless steel catwalks and handrails, processors, depositors, and extruding machines.
8. Electrical and Instrumentation Services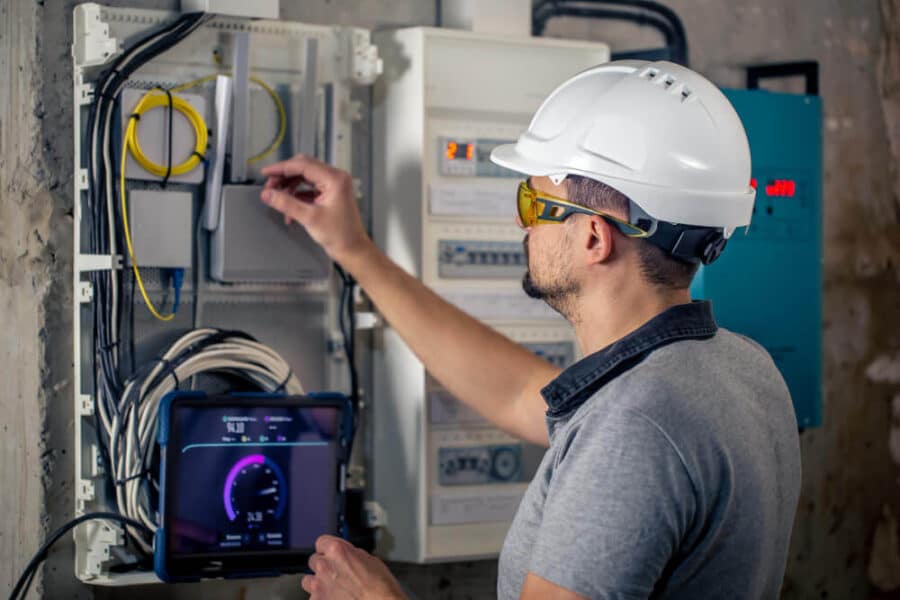 Among many industrial construction services are electrical system installation and maintenance. Electricians provided by industrial construction firms specialize in working with lighting systems, wiring, power distribution networks, and controls in industrial buildings. They offer the following range of electrical services:
High voltage equipment such as transformers, switchgear, motor control centers, and lighting systems.
Programmable Logic Controllers (PLCs) and Distributed Control Systems (DCS).
Instrumentation such as sensors, transmitters, and analyzers.
Panel building
Medium voltage distribution
Large or small conduit and cable trays
Single and three-phase power systems
Data cabling and other building utilities
Professional electricians also offer routine maintenance services for electrical systems. They often make recommendations on adding new or replacing/upgrading old components as per the facility's present and future electrical needs.
9. Specialty Welding Services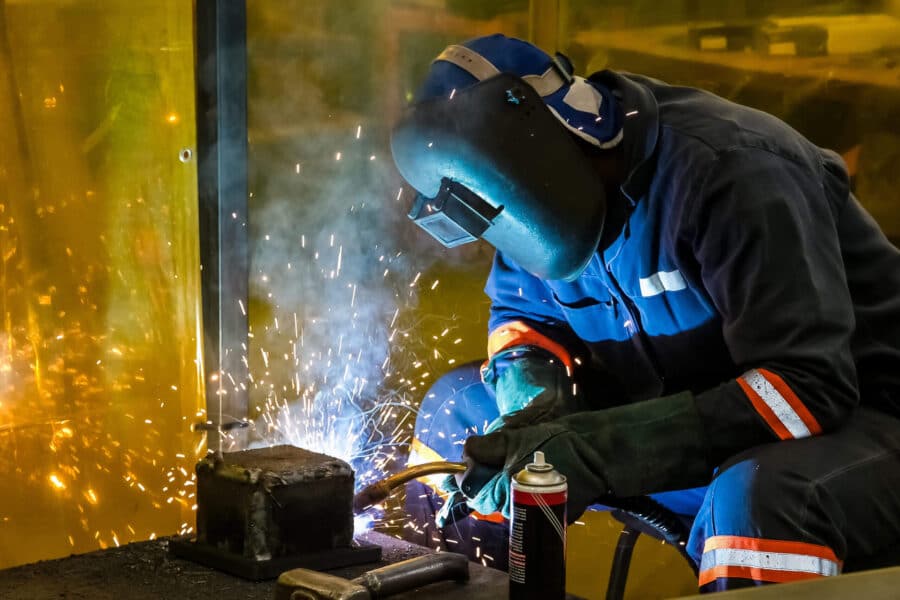 Industrial welding allows contractors to secure piping assemblies, repair heat exchanges, and perform different repair and installation processes. It also enables them to connect jacketed piping and bolt-on heating systems for efficiently meeting clients' process piping temperature needs.
Most reputable industrial construction companies and their trained welding technicians will hold AWS, NBIC, and ASME certifications. Certified welders are experts in working on different surfaces (carbon steel, stainless steel, nickel-alloy, titanium, etc.) and performing complicated tasks. There are various types of industrial welding such as Gas Metal Arc Welding, Gas Tungsten Arc Welding Shielded Metal Arc Welding, Flux-Cored Arc Welding, and Submerged Arc Welding.
10. Industrial Maintenance Services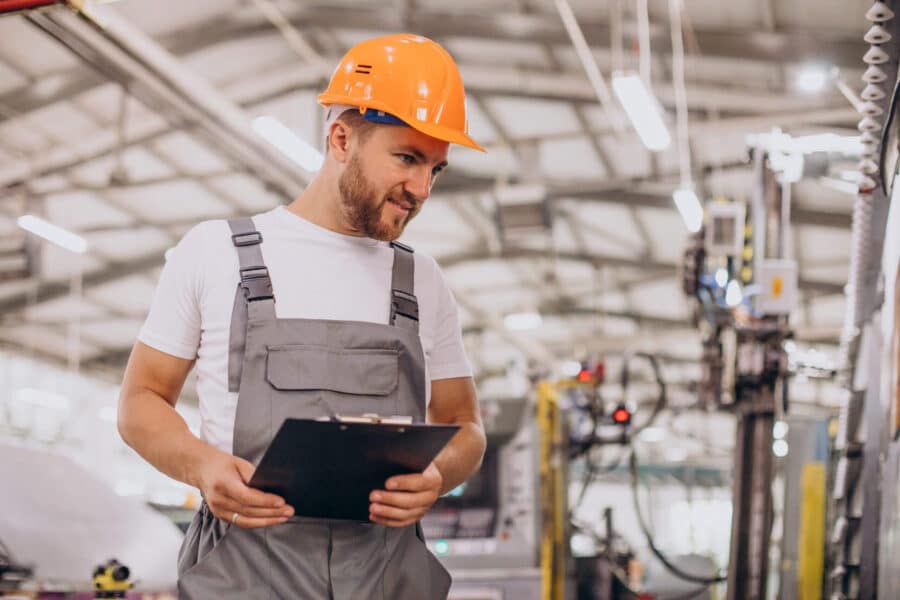 Optimal plant performance is a direct consequence of an efficient maintenance program. Maintenance services for industrial setups focus on maintaining plant components at peak performance, ensuring maximum productivity, cost-efficiency, and lower costs of ownership. Some of the maintenance offerings you will get from industrial construction contractors are as follows:
Mechanical Inspections
Preventative Maintenance
Plant Maintenance Assistance
Predictive and Corrective Maintenance
HVAC Equipment Audits
Internal and External Chemical Cleaning of Condensation Coils/Tubes.
Annual Maintenance
Health and Fire Safety Audits
11. Shutdowns and Outages Services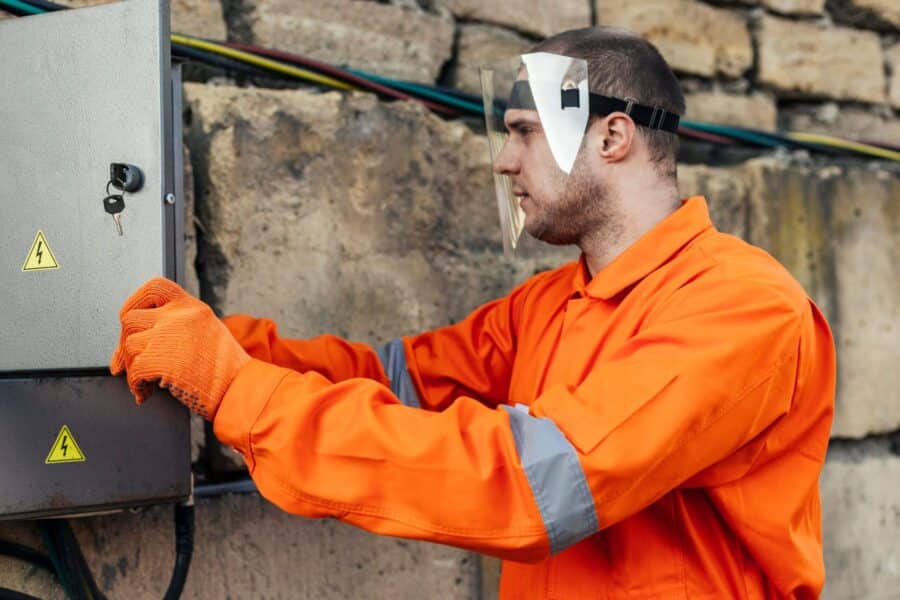 During emergency and planned shutdowns ranging from single unit outages to the entire power plant, your project team will safely reduce downtime and maximize performance. Before a shutdown, the team will determine a schedule and equipment loading plans with plant engineers. They will perform visual inspections, operational checks, and tests to confirm mechanical and electrical (M&E) equipment maintainability.
Here is a list of shutdowns and outages services your industrial construction firm can provide:
Planning and scheduling before and during an outage
Installation and repair/replacement of M&E equipment during shutdown
Outage work varying from one-day machine-specific outages to weeks-old outages
Preventative plant maintenance
Emergency response and quick mobilization 24/7/365
12. Industrial Painting Services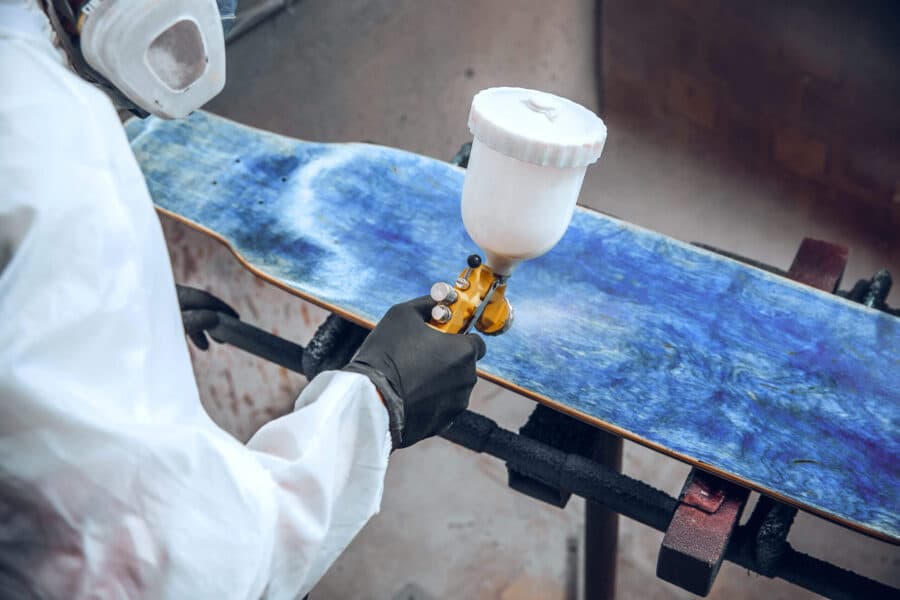 In addition to providing industrial construction services, companies can also assist you with your industrial painting and pipe labeling needs. Their trained painters are qualified to paint on a variety of surfaces from metal, wood, steel to concrete. Hire a company that is aware of the regulations related to color coordination of pipes and tanks, and the specific labels important for easy identification by emergency responders.
Providing paint coatings to your equipment can also help prevent rust and corrosion, saving you time and money on repairs in the future. Your industrial contractor will have experience in industrial painting for different types of systems, including:
Ammonia systems
Fire suppression systems
Natural gas lines
Steam lines
Water lines
Compressed Air
Sanitary Waste
Process Waste
Warehouse ceilings
Waterproof coatings
Rust Treatment
Conclusion
Offering an extensive range of industrial construction services, your construction company will partner with you from start to finish to accomplish your goals, meet your timetables, and successfully manage your budget. They will get permits, survey the property, and help your facility align with code requirements. Multiple specialized tradesmen including millwrights, riggers, iron workers, welders, pipefitters, carpenters, and electricians work under them to build quality infrastructure.
Full-service industrial contractors will handle each and every aspect of your project, right from initial planning, project management, designing, and building services. For collaborating with the right company, clients should first study the scope of industrial construction services and choose according to their unique requirements.
At Constructive Solutions, Inc., we have the resources, technology, and experience to accommodate any industrial construction need. Our team is committed to assisting our clients to overcome their most critical project challenges.
Get in touch to experience our services in San Francisco and San Jose regions.
FAQs
What is Industrial Construction?
It refers to the design, installation, and maintenance of industrial structures including power plants, installation warehouses, distribution centers, factories, and other highly specialized buildings.
How to choose the right Industrial Contractor for my project?
Choose an experienced professional with a proven track record of completing similar projects, and a commitment to safety and quality.
What other project solutions do Industrial Contractors provide?
Contractors in the industrial sector offer different project delivery solutions like General Contracting, Design-Build, and Turnkey Solutions. They also use cutting-edge technologies such as Modular Construction, Automation, Building Information Modeling (BIM), and many others for their services.
Relevant Resources;
Constructive Solutions, Inc. is a full-service commercial construction company serving San Francisco and Bay Area.
Whatever your vision, we have the resources, experience, and insight to make your concept a reality, and a space where your business can flourish.